AUDIO


Ballrogg has recorded five albums, released on various labels. The latest album Rolling Ball is released in October 2020 on the Portuguese label Clean Feed. The first three Ballrogg albums are released on the Norwegians labels Hubro and Bolage.


---
Albums:

Rolling Ball (2020), CF558LP
Rolling Ball (2020), CF558CD
Abaft The Beam (2017), CF403CD
Cabin Music (2012), HUBROCD2515
Insomnia (2010), BLGCD010
Ballrogg (2008), BLGCD003

Listen to excerpts from all the albums on either Spotify, Sound Cloud or direct links in MP3 quality further below on this page.



---

ROLLING BALL (CF558CD/CF558LP)
released Ocotber 30th, 2020 on Clean Feed
Reviews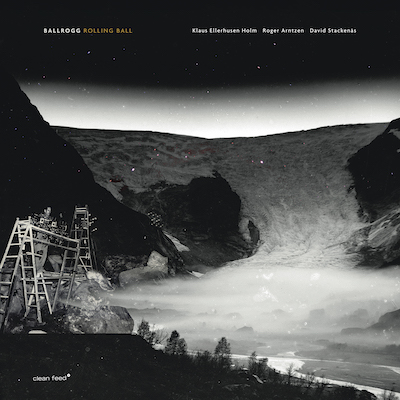 Clean Feed about Rolling Ball:

At first, the Norwegian trio Ballrogg was a duo formed by reedist Klaus Ellerhusen Holm (Honest John, Large Unit) and double bassist Roger Arntzen (In the Country, Chrome Hill), then later expanded with guitarist Ivar Grydeland, who through two albums added a country & western flavor to the mix and placed Ballrogg's music as "free chamber americana". Now the sublimely versatile Swedish guitarist David Stackenäs (Kim Myhr You|Me, Sol Sol) has taken Grydeland's place and sounds right at home on Rolling Ball.

As Peter Margasak says in the liner notes: It's Stackenäs's debut recording with Ballrogg, but he's lived with the music well before joining in 2017. Over the years Stackenäs has gamely filled in, subtly incorporating his own lyric aesthetic within arrangements crafted without him. Paradoxically, while the music on Rolling Ball registers as Ballrogg's most compact and controlled endeavour thus far, it also feels its most liberated expression as well. The arrangements bring a contrapuntal splendor to these bucolic melodies, with each instrumental line woven into an exquisite lattice of meditative beauty. The astonishing fluidity is what makes the music of Ballrogg so special. The road ahead feels more open than ever, suggesting the titular notion of a ball moving forward according to gravity and landscape. Ballrogg create those conditions for momentum, but the magical quality is that it all feels like an act of nature."


ROLLING BALL on Spotify:



Buy album: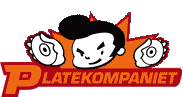 ---
ABAFT THE BEAM (CF403CD)
released February, 2017 on Clean Feed
Reviews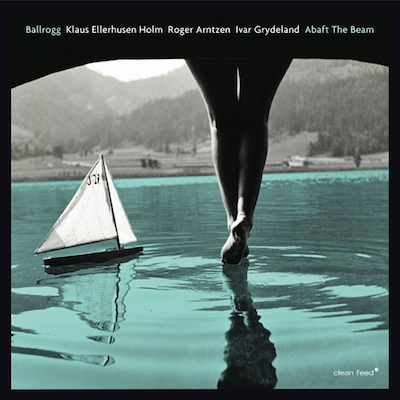 Clean Feed about Abaft The Beam:

For some time, and for two released albums, Ballrogg was the name of the duo formed by clarinetist and saxophonist Klaus Ellerhusen Holm (Honest John, Large Unit) and double bassist Roger Arntzen (In the Country, Chrome Hill), identified by a captivating approach which combined an exploration of the influence of Jimmy Giufree and Eric Dolphy's particular brand of jazz with the kind of non-linear structures patented by the indeterminist new music composer Morton Feldman. Meanwhile, a third element joined the project and things got more complex, and that because Ivar Grydeland (Huntsville, Dans les Arbres) brought with him a strong country & western influence. Pointed out as the Bill Frisell of experimental improvised music, Grydeland's pedal steel guitar and banjo contributions are key to the "free chamber Americana" now proposed by the group, in a much clearer way than the one played by the Chicago's band Town & Country. Curiously enough, neither of these musicians are from the United States and the music itself denounces its Scandinavian origin. The ability of the North European scene to reinvent «American classical music» (the label Duke Ellington gave to jazz) and even to reinvent the American folk roots is legendary, and here we have one precious example.


ABAFT THE BEAM on Spotify:


Buy
album: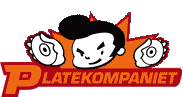 ---


CABIN MUSIC (BLGCD010)
released May 11, 2012 on Hubro
Reviews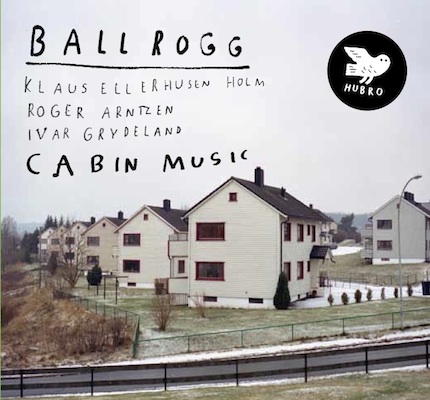 CABIN MUSIC on SoundCloud:



Buy album: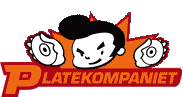 ---


INSOMNIA (BLGCD010)
released January 25, 2010 on Bolage
Reviews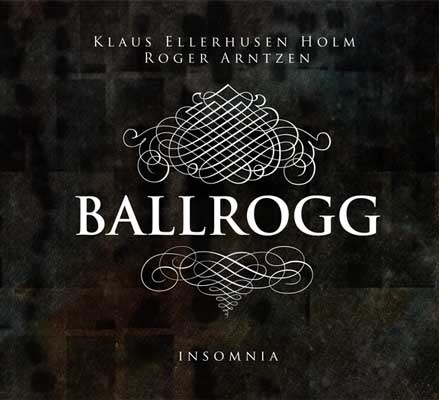 INSOMNIA on Spotify:




Audio excerpts from album INSOMNIA:
All audio is excerpts from the original files, 160 kbps mp3 quality.

N.R.E.M. (Klaus E. Holm) | 2:18 sec
Sleepwalker (Klaus E. Holm) | 1:14 sec
Monkeytown (Klaus E. Holm) | 1:06 sec
Kampenhaug (Klaus E. Holm) | 1:18 sec
Woody Creek (Klaus E. Holm) |1:21 sec
Sort of In a Chromatic Field (Morton Feldman) | 1:39 sec


Bolage about Insomnia:

The Norwegian duo Ballrogg, consisting of saxophone player Klaus Ellerhusen Holm and bass player Roger Arntzen, have made an intriguing new album. Since their critically acclaimed self-titled debut album (BLGCD003), the duo has moved into significantly deeper water, drawing influences from European contemporary music as well as American avantgarde. On Insomnia, their influences are mixed with a cinematic sensitivity, creating soundscapes that are deeply disturbing and stunningly beautiful.

On Insomnia the duo are joined by guitarist/laptop artist Lars Myrvoll and violinist couple
Ole-Henrik Moe and Kari Rønnekleiv on three tracks, expanding the duo´s sonic palette even further.


Buy album: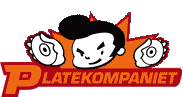 ---



BALLROGG (BLGCD003)
released March 10, 2008 on Bolage
Reviews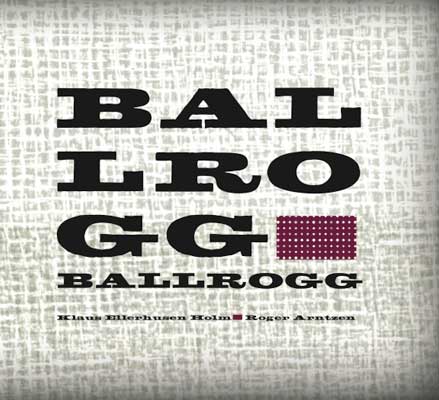 BALLROGG
on Spotify:


Audio excerpts from debut album BALLROGG:
All audio is excerpts from the original files, 160 kbps mp3 quality.

Gazzelloni (Eric Dolphy) | 1:36 sec
Sex Spy (Ornette Coleman) | 1:49 sec
Out To Lunch (Eric Dolphy) | 1:33 sec
Ball (Klaus E. Holm/Roger Arntzen) | 1:05 sec


Bolage about Ballrogg:

We are very proud to present our third release: the Norwegian duo Ballrogg´s self titled debut album. Ballrogg is Klaus Ellerhusen Holm on alto saxophone and clarinet, and Roger Arntzen on the double bass. It is a true joy to hear two accomplished and daring young players interpret classics from the free jazz/ avantgarde repertoire, including works by Eric Dolphy, Jimmy Giuffre and Ornette Coleman. Three songs are composed by the band members them selves.

The transparency of the duo format gives the music a rare purity, and really makes the quality of the songs shine through. Exploring yet lyrical, this music is fresh, challenging and strikingly beautiful.


Buy album: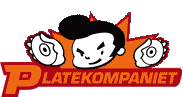 ---