LIVEDATES
BIO
AUDIO
ALBUMS
PRESS
GALLERY

CONTACT
LINKS
BIO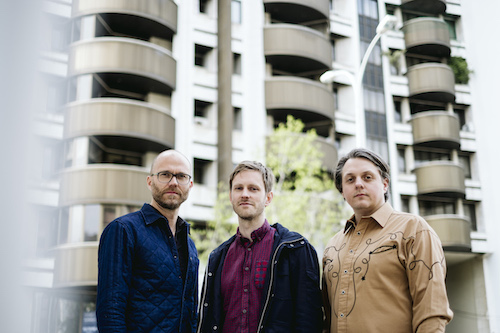 Ballrogg
At first, the Norwegian trio Ballrogg was a duo formed by reedist Klaus Ellerhusen Holm (Honest John, Large Unit) and double bassist Roger Arntzen (In the Country, Chrome Hill), then later expanded with guitarist Ivar Grydeland, who through two albums added a country & western flavor to the mix and placed Ballrogg's music as "free chamber americana". Now the sublimely versatile Swedish guitarist David Stackenäs (Kim Myhr You|Me, Sol Sol) has taken Grydeland's place and sounds right at home on Rolling Ball.

As Peter Margasak says in the liner notes: It's Stackenäs's debut recording with Ballrogg, but he's lived with the music well before joining in 2017. Over the years Stackenäs has gamely filled in, subtly incorporating his own lyric aesthetic within arrangements crafted without him. Paradoxically, while the music on Rolling Ball registers as Ballrogg's most compact and controlled endeavour thus far, it also feels its most liberated expression as well. The arrangements bring a contrapuntal splendor to these bucolic melodies, with each instrumental line woven into an exquisite lattice of meditative beauty. The astonishing fluidity is what makes the music of Ballrogg so special. The road ahead feels more open than ever, suggesting the titular notion of a ball moving forward according to gravity and landscape. Ballrogg create those conditions for momentum, but the magical quality is that it all feels like an act of nature."
"Ballrogg distances itself from traditional improv while shunning excessive extrovertism and friendliness. This allows for considerable friction."
- Jazz in Norway (NO)
"The ability of the North European scene to reinvent «American classical music» and even to reinvent the American folk roots is legendary, and here we have one precious example." - Clean Feed (PT)


__________________________________

Klaus Ellerhusen Holm
Alto sax, clarinet and composition

Holm studied music at the jazz department of the Trondheim Music Conservatory from 2000-2004. Currently located in Trondheim and working in the field of improvised music and the outer regions of jazz. Enjoying and triving in a number of different settings within this environment.
In recent years he has been most active within groups such as Large Unit, Ballrogg, Honest John, duo with David Stäckenas and Trondheim jazzorchestra. He has also collaborated, in different ad hoc settings with: Mats Äleklint, Johan Berthling, Xavier Charles, Jim Denley, Axel Dörner, Michael Duch, John Edwards, Sture Ericson, Ingebrigt Håker Flaten, Ivar Grydeland, Paal Nielssen Love, Ole Henrik Moe, Kim Myhr, John Russell, Christian Wallumrød, Stian Westerhus, Joe Williamson, Ingar Zach and Per Zanussi.
Holm has been playing concerts in 17 countries and in the recent years he has also composed music for various chamber music settings and also music for film.


__________________________________


Roger Arntzen
Double bass

Arntzen is known from the In the Country, who started out as an alt. prog jazz piano trio and was awarded "Young Jazz Musicians Of The Year" early on in Norway. The trio has released eight albums on labels such as ACT, Rune Grammofon and Grappa, all of them to much critical acclaim. Two of the albums was also nominated for the Norwegian "Grammy". Arntzen is also a regular member of Trail Of Souls, where In the Country makes the rhythm section and Singer Solveig Slettahjell and guitarist Knut Reiersrud full-fills the quintet. Arntzen is also a regular together with Motif-saxophonist Atle Nymo with the rock-jazz-quartet Chrome Hill. He has worked with international artists such as downtown NYC icon Marc Ribot, Bob Hoffnar, BJ Cole, Neil Metcalfe, Terry Day, John Russell, Frode Grytten, Susanna Wallumrd, Frida Ånnevik, Stian Carstensen among others. Arntzen has performed at festivals and clubs all over Norway, Europe, North America, Russia, Japan, China, Taiwan, Malaysia, Singapore and Mongolia.


__________________________________


David Stackenäs
Guitars (from 2017)

Has toured as soloist and with many different groups in Europe, the USA, Japan and the Middle East. In 2000 David released critics´ acclaimed CD the guitar on swedish label Häpna and has since then released bow on Kning-Disk (2006) and Separator on Found You Recordings (2009). Also plays with LabField (w/ Ingar Zach), SEVAL, Les Sons Du Nuage, Lina Nyberg Band and the New Songs (w/ Sofia Jernberg a.o) and has participated as musician and made music for many different theatre- and dance pieces. Through the years he has played with, among many others:
Evan Parker, Barry Guy, Lina Nyberg, Sofia Jernberg, Rhodri Davies, Paul Lovens, AxelDörner, Sten Sandell, Thurston Moore, Mazen Kerbaj, Christine Abdelnour, Ken Vandermark, Paal Nilssen-Love, Cecilia Persson, Jim O' Rourke, Tatsuya Nakatani.


__________________________________