LIVEDATES
BIO
AUDIO
REVIEWS
PRESS
GALLERY

CONTACT
LINKS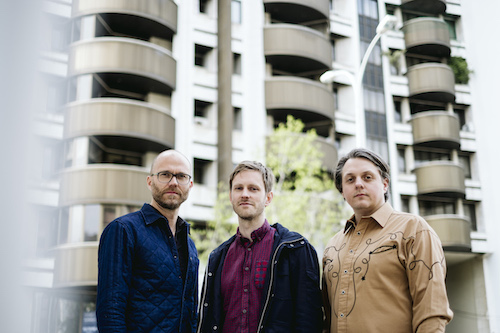 Ballrogg
For some time, and for two released albums, "Ballrogg" (2008) and "Insomnia" (2010) Ballrogg was the name of the duo formed by clarinetist and saxophonist Klaus Ellerhusen Holm (Honest John, Large Unit) and double bassist Roger Arntzen (In the Country, Chrome Hill). Initially identified by a captivating approach exploring the music of Jimmy Giufree and Eric Dolphy and hinting to the non-linear structures patented by indeterminist new music composers like Morton Feldman. Meanwhile, in 2011 and for their next albums "Cabin Music" (2012) and "Abaft The Bram (2017) Ivar Grydeland (Huntsville, Dans les Arbres) joined the project. He brought with him a strong country & western influence and the music gradually shifted in direction of the currently described "free chamber Americana". The Swedish guitarist extraordinaire David Stackenäs (Circadia, SEVAL) has now replaced Grydeland and things got even more complex. Stackenäs has since his debut in 2000 developed a very personal style and due to his versatility he has collaborated with pretty much everybody in the global creative jazz/improv scene. Stackenäs has previously toured with Ballrogg on several occasions, both in Europe and the United States.
"Ballrogg distances itself from traditional improv while shunning excessive extrovertism and friendliness. This allows for considerable friction."
- Jazz in Norway (NO)
"The ability of the North European scene to reinvent «American classical music» and even to reinvent the American folk roots is legendary, and here we have one precious example." - Clean Feed (PT)


__________________________________

Klaus Ellerhusen Holm
Alto sax, clarinet and composition

Holm studied music at the jazz department of the Trondheim Music Conservatory from 2000-2004. Currently located in Trondheim and working in the field of improvised music and the outer regions of jazz. Enjoying and triving in a number of different settings within this environment.
In recent years he has been most active within groups such as Large Unit, Ballrogg, Honest John, duo with David Stäckenas and Trondheim jazzorchestra. He has also collaborated, in different ad hoc settings with: Mats Äleklint, Johan Berthling, Xavier Charles, Jim Denley, Axel Dörner, Michael Duch, John Edwards, Sture Ericson, Ingebrigt Håker Flaten, Ivar Grydeland, Paal Nielssen Love, Ole Henrik Moe, Kim Myhr, John Russell, Christian Wallumrød, Stian Westerhus, Joe Williamson, Ingar Zach and Per Zanussi.
Holm has been playing concerts in 17 countries and in the recent years he has also composed music for various chamber music settings and also music for film.


Roger Arntzen
Double bass

Arntzen is known from the In the Country, who started out as an alt. prog jazz piano trio and was awarded "Young Jazz Musicians Of The Year" early on in Norway. The trio has released eight albums on labels such as ACT, Rune Grammofon and Grappa, all of them to much critical acclaim. Two of the albums was also nominated for the Norwegian "Grammy". Arntzen is also a regular member of Trail Of Souls, where In the Country makes the rhythm section and Singer Solveig Slettahjell and guitarist Knut Reiersrud full-fills the quintet. Arntzen is also a regular together with Motif-saxophonist Atle Nymo with the rock-jazz-quartet Chrome Hill. He has worked with international artists such as downtown NYC icon Marc Ribot, Bob Hoffnar, BJ Cole, Neil Metcalfe, Terry Day, John Russell, Frode Grytten, Susanna Wallumrd, Frida Ånnevik, Stian Carstensen among others. Arntzen has performed at festivals and clubs all over Norway, Europe, North America, Russia, Japan, China, Taiwan, Malaysia, Singapore and Mongolia.


David Stackenäs
Guitars (from 2017)

Has toured as soloist and with many different groups in Europe, the USA, Japan and the Middle East. In 2000 David released critics´ acclaimed CD the guitar on swedish label Häpna and has since then released bow on Kning-Disk (2006) and Separator on Found You Recordings (2009). Also plays with LabField (w/ Ingar Zach), SEVAL, Les Sons Du Nuage, Lina Nyberg Band and the New Songs (w/ Sofia Jernberg a.o) and has participated as musician and made music for many different theatre- and dance pieces. Through the years he has played with, among many others:
Evan Parker, Barry Guy, Lina Nyberg, Sofia Jernberg, Rhodri Davies, Paul Lovens, AxelDörner, Sten Sandell, Thurston Moore, Mazen Kerbaj, Christine Abdelnour, Ken Vandermark, Paal Nilssen-Love, Cecilia Persson, Jim O' Rourke, Tatsuya Nakatani.


__________________________________


Ivar Grydeland
Pedal steel guitar, guitar and banjo
(on Cabin Music, 2012 and Abaft the Beam, 2017)

Has been a musician and a composer for a decade. He has been touring and recording with his own bands, ad hoc projects and project based ensembles at big festivals and clubs in Norway, Sweden, Italy, Belgium, The Netherlands, Portugal, Austria, Germany, France, Canada, USA, Greece, Argentina, Spain, Poland, Slovenia, Slovakia and Japan. Grydeland is currently most frequently playing with the quartet Dans Les Arbres (Wallumrød, Zach, Charles, Grydeland), who released their debut album on ECM in April 2008. He´s also active with the trio Huntsville (two releases on Rune Grammofon) and has a key role as a guitarist and pedal steel player with the Norwegian singer Hanne Hukkelberg. Grydeland plays his acoustic guitar, electric guitar, banjo and pedal steel guitar often in the direction of Country & Western, with a facination for streching the possibilities in the sound quality itself in his instruments.